Create a network share
For the sake of readability "your laptop" stands for your laptop or your PC or your workstation. "Explorer" stands for your file manager;  Windows Explorer, Apple Finder, NetDrive etc.
Yoda portal
Yoda can be approached via the webportal of your Yoda instance. For example www.i-lab.yoda.uu.nl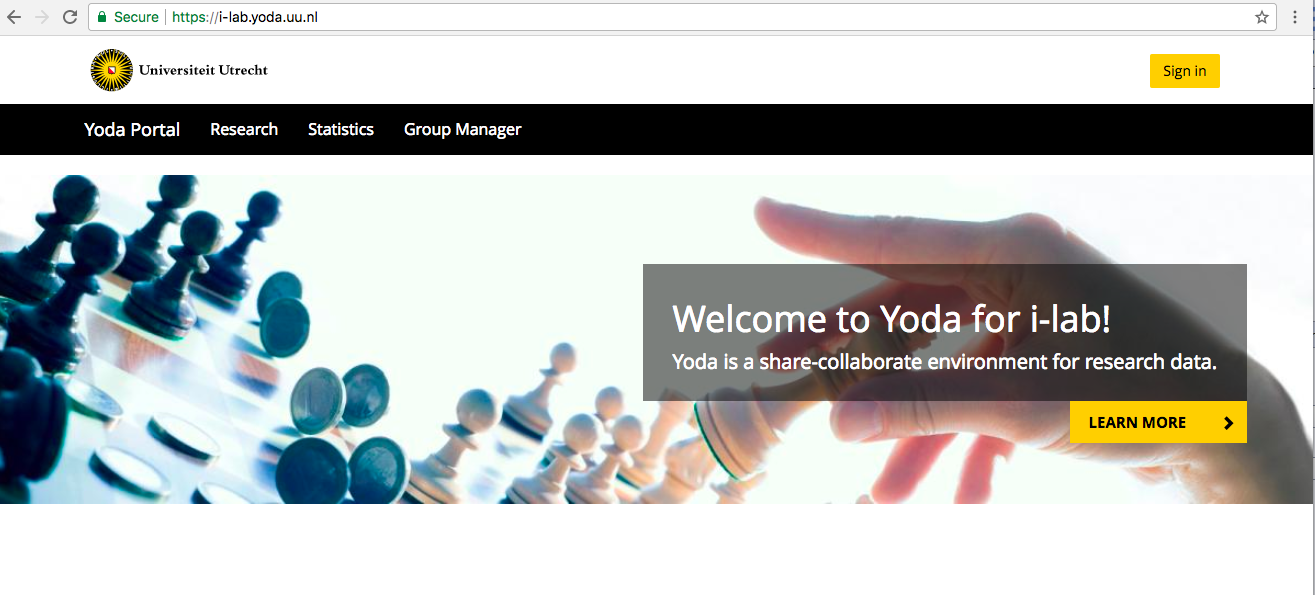 The Yoda Portal can be seen as a website for managing usergroups, adding metadata and submitting your data to the Vault. Data can also be published using the portal.
Your data files in Explorer
You can approach the data files stored in Yoda in the file manager on your local machine.    

The reason you want to Connect
Yoda is a web application, running on a server somewhere at the UU whereas the files with your research data reside on your laptop.
To use Yoda for your data you need to bring your data files in Yoda. You will drag and drop the files from your laptop to Yoda.
And this drag and drop will only be possible if you can see Yoda in some way like a Y:\ drive in your laptop's own Explorer. Mapping (Mounting) a drive will do the trick.
Mapping a Network drive
Mapping a drive simply means to connect a local drive on your laptop with a specially allocated shared directory or folder, in this case Yoda, on another computer.
After a drive has been mapped, you can access the shared resource (Yoda) in Explorer and treat it as if it's located locally on your own laptop.
When Yoda is visible in your Explorer there needs to be a way to drag and drop files to this imaginary part of your laptop. WebDav will take care of this using your SolisID and password.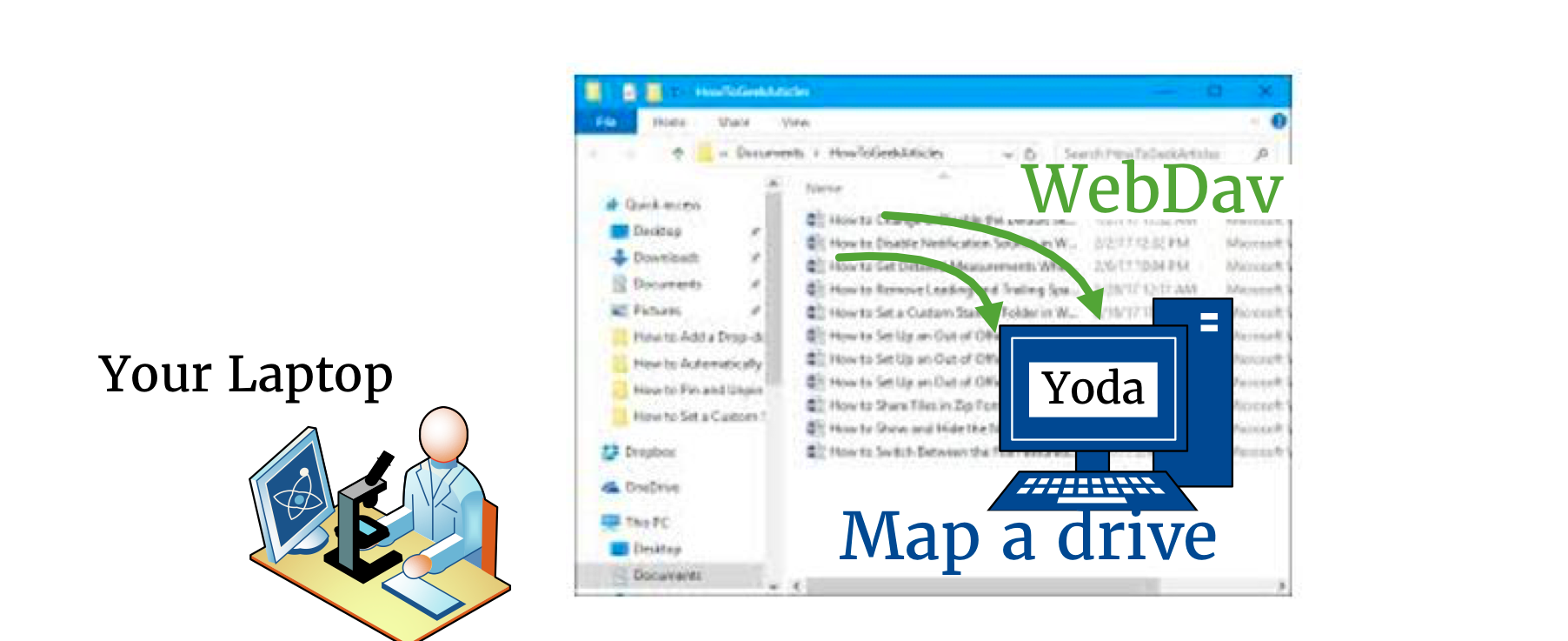 WebDAV
WebDAV is a protocol to drag and drop files to remote Web servers.
So, as a mapped drive, WebDAV is used to upload files from your laptop to Yoda.
Instruction video available
Network share
There are several ways to get access to the files and folders of your usergroups. The easiest is by setting up a network share.
You can do this in your file-manager, eg. Windows Explorer on a windows machine and the Finder on a Mac.
The web address you need to connect depends on your category:  YOUTH, Geo, I-Lab or another project.
The webaddress will be for instance  https://i-lab.data.uu.nl or more general https://your-category-name.data.uu.nl
Map Network Drive
The procedure to do this differs per type of system (Mac or Windows or Linux).
It will be shown here for Windows and an Instruction video is available for Mac and Windows.
For other versions or systems a google search on "Map Network Drive" will guide you.
Create a network-share on Mac.
WebDAV or CyberDuck
Possibly you want to use a third-party product or protocol like CyberDuck or WebDAV, for instance when you want to have access to your data via a tablet or in older versions of Windows (Windows 8 and earlier).