Publish
As a researcher, you can choose to publish your data.
By publishing you can make the metadata of your datapackage findable in the Catalogue.
You can only publish a datapackage already archived in the Vault. Please note that making the metadata accessibility does not imply that the data in the datapackage is accessible as well. To enable the accessibility of  the datapackage, you should set the Data Package Access in the metadata form to Open – freely retrievables.
Researcher
Publishing is initiated by the researcher in the Research module.
In the next example we consider the group "myresearch-data".
With subfolders:


We want to publish "documentation"
Note that it is a datapackage in the Vault that can be published.
So the data you want to publish can only be found in "vault-myresearch-data".
As a researcher you have, besides the listing of the research-…….., a listing of the vault-…….. of your usergroups.
See Grant/Revoke access of researcher.




You could find the package by a search by status "Unpublished" in the Vault.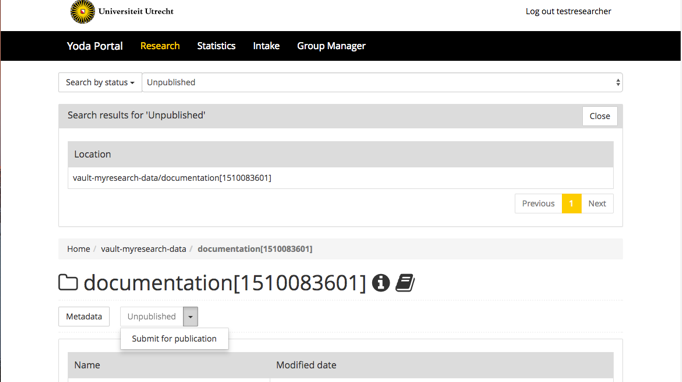 Click the dropdown next to "Unpublished" and choose "Submit for publication".
You get an important message.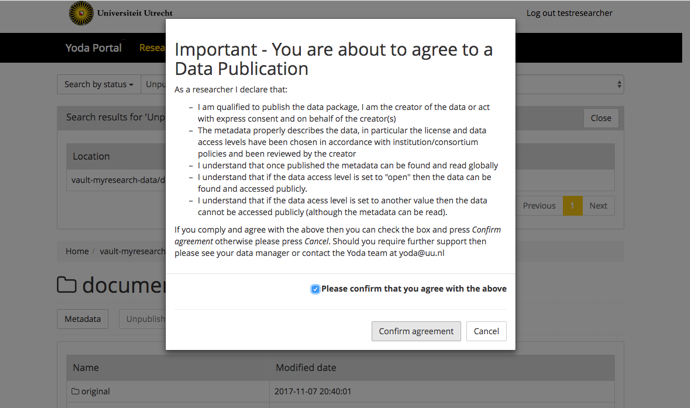 You have to confirm the agreement.
A message "Submission pending" is shown.

Datamanager
The datamanager will do a search on "Submitted for publication".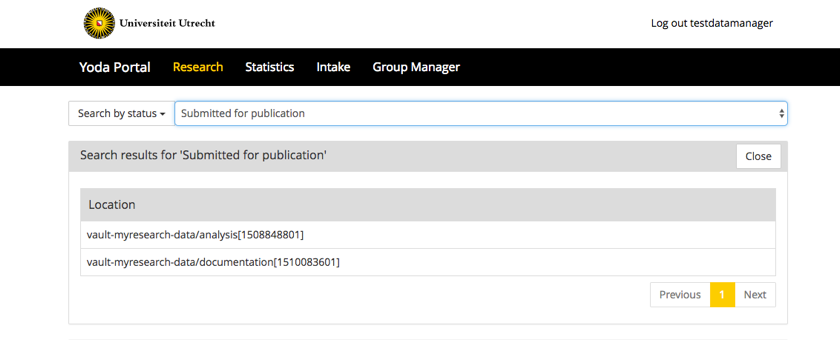 The datamanager will check your package and Approve for publication.
More about the checks in Checks by the Data manager.


The status will show "Approved for publication "


And after a while (refresh screen) the status will be "Published".
Researcher
As a researcher you will find your package in the listing after a search on "Published".

More about Publish in Publish elaborated.