Revisions
Revisions, or file versions, are important in case you need to go back to an earlier version of your work. The revision mechanism provides you with a backup functionality of these earlier versions.
From 00.00 midnight to 00.00 midnight Amsterdam time which is Central European Time (GMT +1) is called a day.
During the day
Yoda will automatically save all new revisions of your data during the day. This is done every moment that you save your file in a folder (using the same name). So, this will not overwrite the existing file but it will create a new revision while the older revision is stored somewhere in a hidden location. So, you will have the latest version in the research area, currently in use and the previous version stored elsewhere.
In this way, during your working day, you will be able to go back to each and every former revision of that day.
Search Revision by name
All available revisions can be found by "Search revision by name"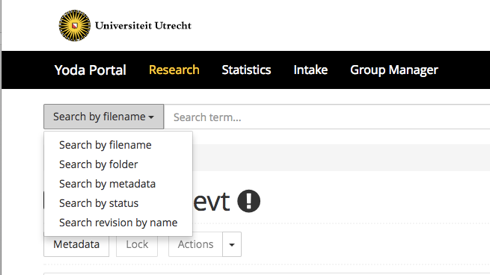 Restoring a revision
In case you would like to restore an older version you can do this in various ways:
under your own name in the same folder

with a different name

or in another folder within the user group
Revisions over weeks
Imagine you are working on your data already for a long time and let's say you are working late on Wednesday 11.15 pm.
Each blue dot stands for a moment a revision is saved.

All your revisions of the day are available. This could result, at the end of the day, in an enormous amount of revisions
Then, right after midnight when the Yoda days ends, the last day
is divided in two timeslots, one from midnight to 12.00 noon and the other from noon to midnight.
From each 12 hours' timeslot the first and the last revision will be kept.
Resulting in a maximum of 4 revisions from the last day. The current revision in the research area is included in this count.

2 days before
From the 24 hours preceding the last day only the first and the last revision is kept.

Older history
As time passes and revisions become older (weeks, months) the same mechanism will thin out older revisions, always keeping the first and the last of a period.
16 weeks
After 16 weeks every revision older then 16 weeks will be deleted.
This way, you will always have your latest version and one or more older revisions.
Note that Microsoft's autosave functionality does not function in combination with file storage via internet. So, it doesn't function in Yoda.
Note that, during your work a maximum of one revision per 30 seconds is made. So, any changes within 30 seconds of the last revision will not be form a new revision even though you saved it in the meantime.