Submit to archive
Submit to archive is also referred to as submit to Vault or simply as Submit.
Submitting (to the Vault)
Through submitting you can copy (part of) your folder-tree in the Research Area to the Vault for long term storage. This part of the folder tree is called a datapackage.
You can submit a datapackage by navigating in the Portal to a folder in your Research Area and submit it to the Vault. 
Submit is only possible after adding Metadata.
Submit is found under Actions.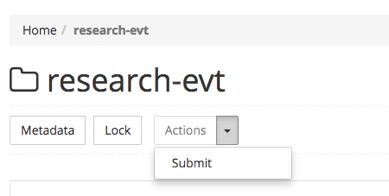 More about the statuses of the data after submitting can be found in Submit elaborated.
Instruction video available