Submit elaborated
Statuses in Research
Submitting data will result in a sequence of statuses for the data.
Locked
Submitted
Accepted
Rejected
Secured
Submit
Point at a folder and submit it to the Vault.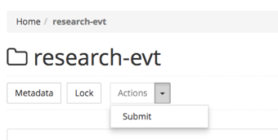 Once you submitted that folder a number of processes will start:
System check
The system will automatically check whether all mandatory fields of the metadata-form defined for that folder are filled out correctly. You'll receive a system message if this check fails.

Submitted
If the metadata-form passes validation, the folder and all its subfolders will be locked and receive the status Submitted.
If desired the folder can be Unsubmitted, using the same button.
Unlocking is also possible in this status.
Checks by Data Manager
The Yoda Data Manager will see that a datapackage is submitted for the Vault.
He will then perform manual checks to validate the quality of the datapackage and will either Accept or Reject the datapackage.
Please read Checks by the Data Manager to learn what exactly this qualitative check entails.
Rejected
The Data Manager could, while checking the submitted data, find some errors or missing data and will, in that case Reject the datapackage. The researcher will be notified and can do some rework on the datapackage. The datapackage remains Locked. Unlocking is possible.
Accepted
Once the datapackage is accepted, it's status will change to Accepted. The datapackage is now ready to be copied to the Vault by the system. The folder in the Research area will remain locked and can't be unlocked.

Secured
An accepted datapackage will be copied to the Vault in the next run (every 2 minutes).
Only after the actual copying to the Vault the status will be set to Secured (refresh screen to see this) to indicate that the data is secure in the Vault.

The datapackage remains Locked. Unlocking is possible.
Once a datapackage is accepted you will be notified by mail.