Introduction to Yoda
The simplest way to think about Yoda, short for "Your Data", is:
A way to store your research data.
Yoda stores all kinds of digital data: not only primary (raw) data or secondary data, but also questionnaires, lab journals, digital sources, observations, photos, scans etc. etc.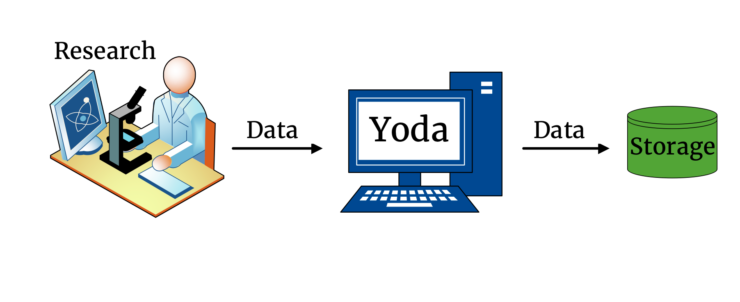 Yoda also is:
A way to store, manage, share, secure, add metadata and publish your research data.
What Yoda can do for you
Yoda provides for an integrated digital environment enabling you to:
Collaborate with your fellow-researchers on research data in a shared data-storage.
To store your data for a period of at least 10 years in a frozen state, together with a standardised set om metadata.
To publish your dataset with a Persistent Identifier, thus enabling you to:
Refer to your dataset in articles or other datasets;
Making your set findable in the Yoda Catalogue via its metadata;
Depending on the conditions under which you've published it, allowing access to your dataset.
Yoda supports your needs as flexible as possible. Each of the possibilities listed above should be considered as separate. You can store data without collaborating, you can collaborate on data without storing it for a longer period and you can store it for 10 years without publishing it.
Collaborating with others
Yoda supports collaboration between multiple users for input of data as well as for retrieval of data.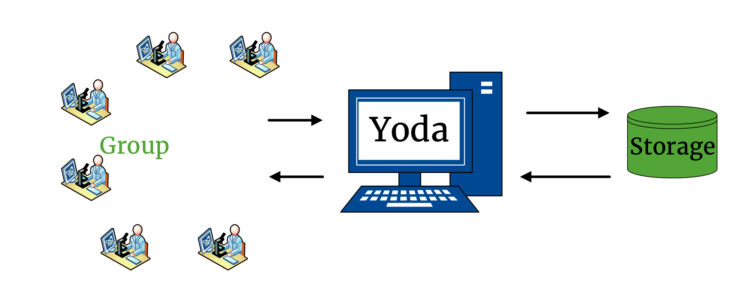 Safeguarding your data
Yoda provides a safe place to store your data. Several built-in features effectuate this safety; as a user, you don't have to bother about it.
Your data will, for example, be encrypted and is stored in two different, geographically separated locations.

Complying to requirement of funders
Storing your data in Yoda enables you to easily comply to requirements set by NWO, H2020 and ZonMw for data handling with regards to data storage, security and metadating.
Findable
Your data should be Findable for you as well as for other users. Yoda supports this by enabling you to add relevant Metadata to your data and, once published, organising this Metadata in a searchable Catalogue. Published Metadata can be harvested by different catalogues.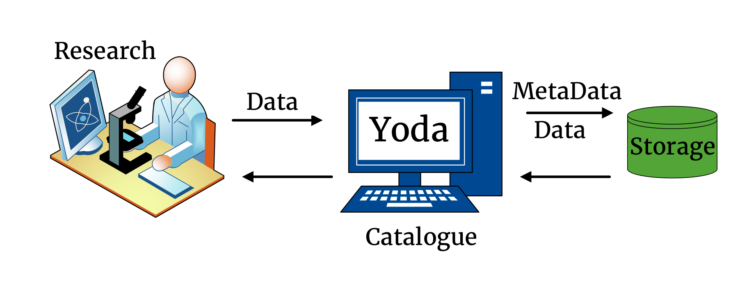 FAIR
Yoda satisfies the FAIR principle of proper data management: Findable, Accessible, Interoperable and Reuseable.
Sharing
Yoda supports the use of large volumes of data shared between researchers from different institutes.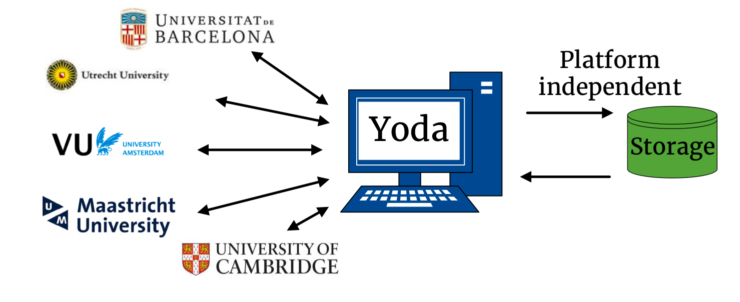 Group
Yoda can be used by a group of researchers providing each member of the group the ease of automatically adapting to the group's pre-defined procedures and rules concerning, for
instance, one metadata scheme. In this way, the group members will automatically work conform the group's standards. The group manager will take care of defining the standards.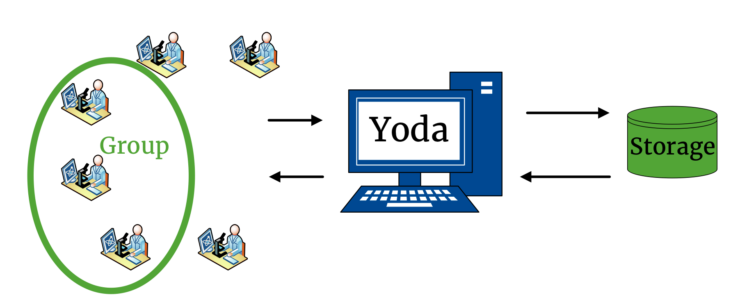 Note that a group can consist of only one member.
Read more about groups.
Data lifecycle in Yoda
An example of the use of Yoda in a lifecycle example can be found in Data lifecycle in Yoda.
Yoda components
All above mentioned features are enabled by Yoda's  components.
Yoda user interfaces
Read about Yoda's user interfaces.