Yoda components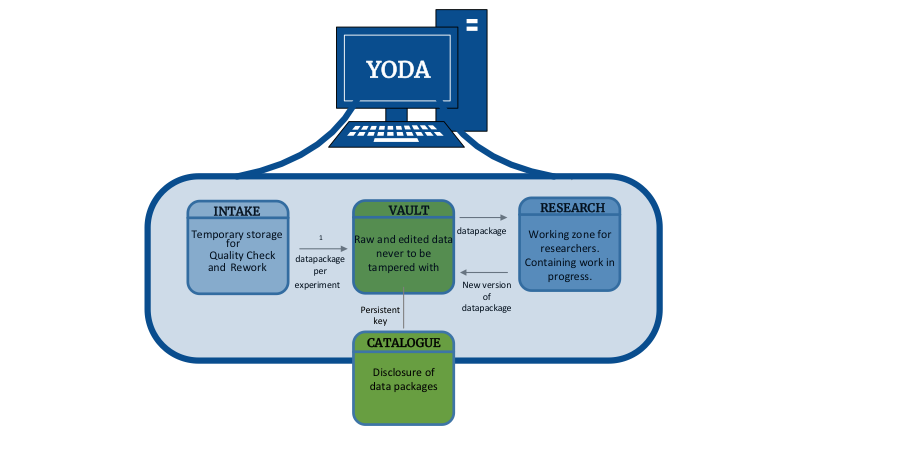 Vault
The vault is the place to store the data for a longer period. Only checked data will find its way to the Vault.
Data is stored in the Vault as a datapackage: data together with its metadata.
Only datapackages in the Vault can be published (to guarantee integrity of the publication).
Data in the Vault is read-only and can't be changed. Not accidentally and not even deliberately.
In special cases, like for legal reasons, the system administrators could be requested to remove data from the Vault.
Although datapackages in the Vault can't be changed they can be copied to the Research to be used and repackaged. This new package can be send to the Vault.
See Vault.
Research Area
Yoda Research Area; a workspace for groups of researchers to collaborate on (digital) datasets.
See Research.
Catalogue
Yoda Catalogue; an environment for discovering the datapackages stored in Yoda Vault via their metadata as well as providing access to these datapackages, depending on the conditions under which they've been published.
Intake (only used in the Youth Data project)
The Intake module is an optional module to perform an automated quality check on primary research data before it is stored in the Vault.
Imagine, for instance, you expect a device to upload a set of 17 labtests every morning at 8.00. The Intake checks: whether it is 8.00 o'clock indeed, whether the type of data is labtest and it counts to check the number of 17. It will also check the accompanying Metadata.
See Intake.